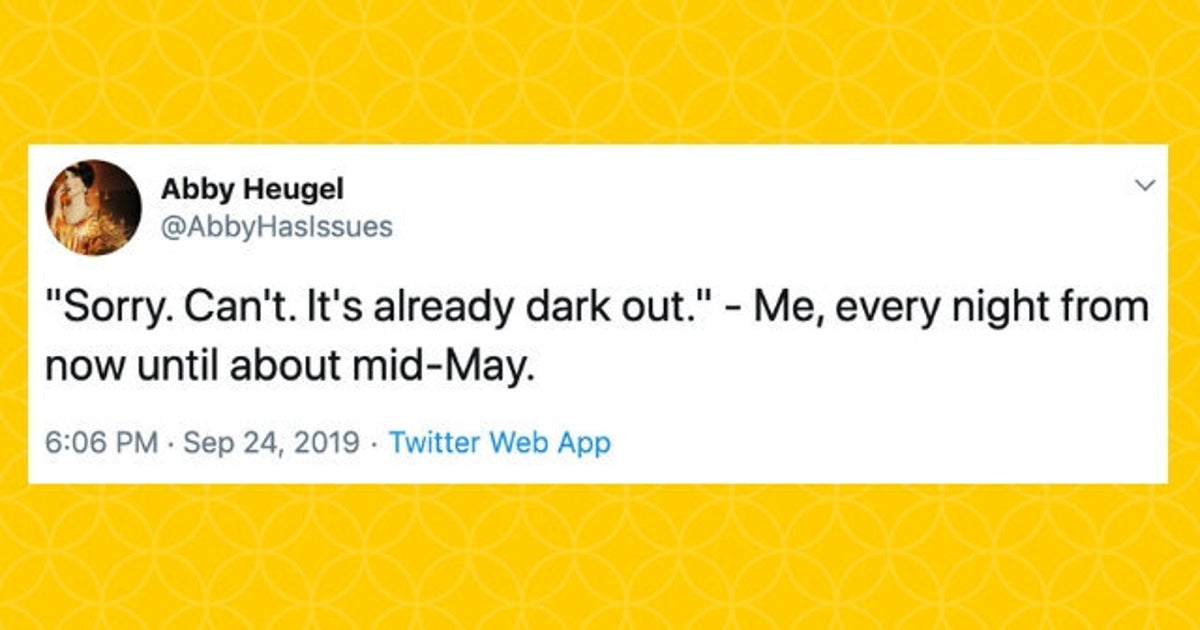 If you're an introvert, you value your alone time. You tend to think before you speak. You'd much rather socialize one on one than in a group. A phone call is probably your worst nightmare. But most of all, you are silently strong.
It can be tough to prefer being alone in a world that values sociability. But take heart, quiet types: Twitter has your back. Each month, we round up spot-on tweets that capture what it's like to be an introvert. Scroll down for our latest batch.
1.
When you're an introvert, being sent to your room as a kid was never really the worst punishment.

— Introvert Life (@IntrovertLiving) September 26, 2019
"Sorry. Can't. It's already dark out." – Me, every night from now until about mid-May.

— Abby Heugel (@AbbyHasIssues) September 25, 2019
3.
If you put on pants at all today, then you've failed your Sunday.

— Jack "CouRage" Dunlop (@CouRageJD) September 22, 2019
4.
5.
6.
7.
8.
friend on phone: So when am I going to see you?
me: /manages to stop self from saying "you just saw me last week"/#IntrovertProblems

— Sage Blackwood 🍑 (@urwalder) September 23, 2019
9.
10.
When they make plans with you but don't follow through, it's called a *phew. Introvert speak.

— FiercelyChristina (@FiercelyAlexaV) September 30, 2019
11.
I have an introvert hangover. I'm totally exhausted from too much human interaction.

— Biker Barbie (@backwoodsbarb93) October 2, 2019
12.
13.
I think the internet is cool cuz it lets the introverts be extroverts without the commitment.

— MILES (@TheMilesMcKenna) September 9, 2019
14.
Shout out to all my fellow introverts who constantly get chatty Uber drivers.

— Zeba Blay (@zblay) September 9, 2019
15.
Introverts need time to recover from social interaction because they've been acting all day.

— humor (@DaiIy_Humor) September 25, 2019
16.
17.
My friend just canceled plans right before I left the house and it feels like I won $100 on a scratch off. What an unexpected treat!

— Vanessa Ramos (@thatRamosgirl) September 27, 2019
18.
Lemme get this out of the way, the one-sided awkward conversation my barber has with me in the salon while dressing my hair is what takes me 9 days to get over with…😳#introvertproblems

— Muhammad Faiyaz (@faiyaz_ahmed_1) October 2, 2019
19.
20.
fellow introverts!!!!! u know when u agree to hang out w ppl but then they change the activity and it requires a whole new level of social effort and ur like???? i didnt sign up for this???

— tee 🍒 (@tinytaehyungah) October 3, 2019
View original article here Source